Is there anything different in the process of local keyword research vs. global keyword research? What do these forms of keyword research share and how are they different?... Here are my points of view for these questions.
The major differences between regular and local keyword research are (1) language (country level) and (2) location (small area level).
The goal of keyword research is the same: to find the keywords that help drive the relevant and qualified visitors to your website via search. Keyword can be long tail or head terms.
Regular SEO, or global SEO, is the right strategy for business trying to appeal to a worldwide target audience. For this multiple language SEO, surely you'd need to translate your major keywords to others language and use Google keyword tool to estimate the traffic that those keywords may bring, and find out all the related keywords as well. Then you should verify your keyword list with a native person to eliminate irrelevant keywords.
Location-based SEO, in other hand, is better for the small businesses that have locations in a concentrated city or region. For local SEO, you should find out all location keywords and merge with your major terms in a way that make sense. I will not pay much attention to the traffic because I know the traffic will be little; the goal is just to capture all the search traffic that arise for that specific areas. I can cover as many areas as I need, and I know those visitors, although little, will be highly relevant and have better chance to convert. You can do at city level, or neighborhood level, or any specific level you may need to.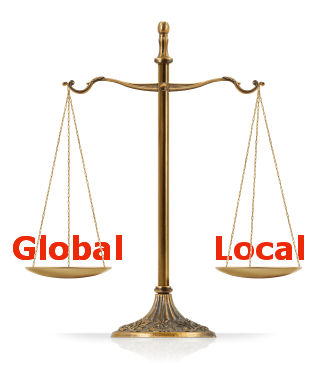 As the question is just about keyword research, I think the above information should be relevant and enough. In general, the keyword research process should reflect the real-life business need, not a technical process.