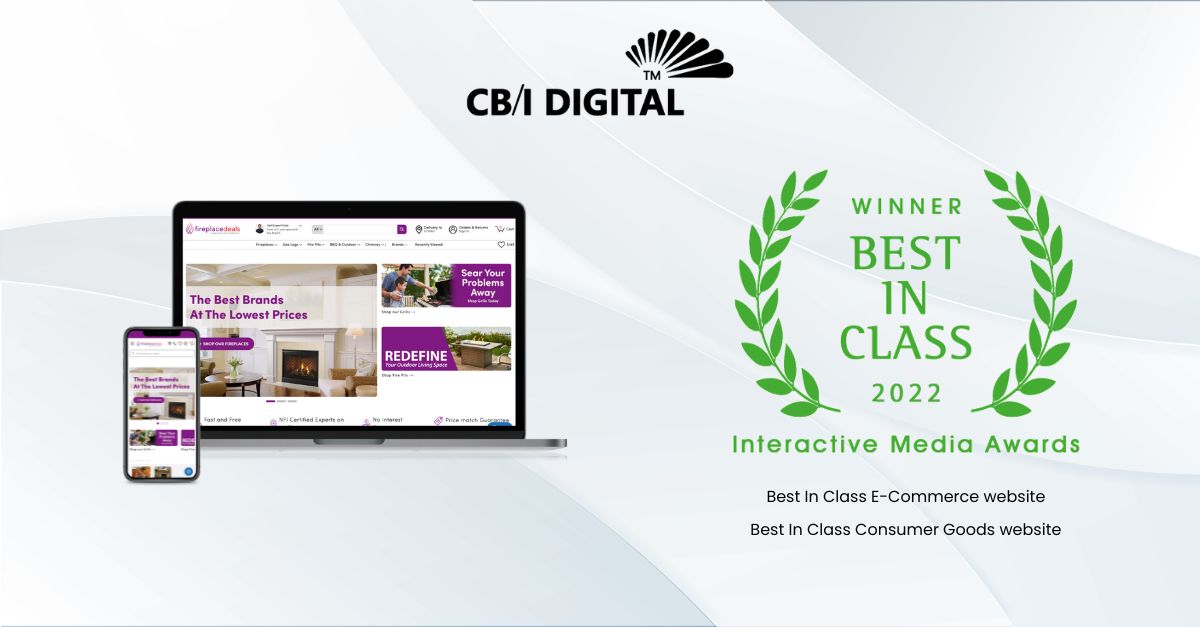 Today marked a proud day for CB/I Digital, especially our Magento Commerce development team.
Interactive Media Awards 2022
has honored CB/I with Best In Class E-Commerce website and Best in Class Consumer Goods website for our contribution to
FireplaceDeals.com
. Winning these awards marks a remarkable milestone in our journey as an Adobe partner.
Previously, we would develop Ecommerce sites with all popular solutions, Wordpress/WooCommerce, Magento, Shopify, Joomla, Drupal, etc. Four years ago, we made a decision to focus our development efforts on
Magento (now Adobe Commerce)
, thanks to its superior capabilities.
Magento's open source nature allows for complex customization that Shopify or BigCommerce cannot handle, and its enterprise-grade Commerce Cloud is a lot more affordable than competitors such as SAP Hybris or Salesforce Demandware.
It took us three conferences in four months to chase Adobe's partnership team down and get
Solution Partner
status! Our persistence paid off because the relationship we have with Adobe today is among our most rewarding and successful business partnerships.
Jacob Ojalvo of Adobe's sales team introduced us to Peter Demitri of Fireplace Deals, who set out to build THE best Ecommerce website in the fireplace space, competing against huge rivals like WoodlandDirect and BBQGuys.
Peter's expectations were so high that we finally signed a 120-page contract, detailing 100+ extensions and features for the site. Ari Blech, our Director of Sales, said: "This could end up to be a wonderful Ecommerce site, or to be one of the bigger mistakes we've made!"
After great effort from both teams, FireplaceDeals eventually became a success. Winning the 2022 Interactive Media Award for Best-in-class Ecommerce Website for Fireplace Deals is a beautiful way to honor that effort.
Thank you Peter, JP and the entire FireplaceDeals team for trusting us, and thank you Adobe for the amazing partnership!